My path to Three.js and 10 resources to start learning it
In a previous post I talked about how I started to learn Three.js during my #100DaysOfCode challenge. Here I want to describe the whole process: what I learned, what issues I had and some resources I gathered that I wish I had when I started.
I became very curious about complicated 3d animation on the web and really wanted to learn how to create those amazing effects myself. After a little digging I found out that it is best to utilize the WebGl API. I looked into learning it via youtube tutorials but very quickly realized it would be a heck of a beast to tackle. But don't worry, I soon found out that there are some very nice JavaScript libraries like Three.js (3d), Pixie.js (2d) and others that help you to get the same results with much nicer API.
I decided to focus on learning Three.js. This library has a large community, a good amount of tutorials and is very popular on the modern web. I picked this framework because I noticed that the vast majority of the websites I like utilize this exact one. So I started with their official website. It has a lot of examples, great documentation and a good list of tutorials.
My learning path was very hectic, just like it usually is when you start learning something new. I used numerous tutorials and blog posts to learn how to achieve different effects. Somehow I started with a quite advanced topic that utilized shaders - GLSL code - that's executed directly on the GPU. That made me quite confused and unsure about how to use Three.js initially. I was taking courses and following the tutorials in the order of their discovery but if I were to start learning Three.js over again I would approach the resources in a different sequence.
Here is the list I would recommend to my previous self:
The bonus resource I'm going to share is actually an upcoming course from a French creative developer Bruno Simon, who teaches the development at French "l'ecole". I was bummed that I couldn't take his classes, but the great news is - he is creating an online course right now. He promises to release the course by the end of the year so I'd subscribe for his Twitter and wait for the updates. From his teasers on Twitter I can tell it's going to be a hit!
So this is the list I wish I had when I just started, a list which would have saved me a lot of time and energy and created a good learning path. Also it's a good reminder to myself that there is so much exciting material that I can study, practice and incorporate in my work.
One issue I came across is that there are no good tutorials or articles for mid level 3d graphics comprehension. It seams to me that all the courses and articles fall into two categories:
tutorials on how to create a 3d cube - which is like printing "Hello World!" to the screen, when you start learning a new programming language.
posts about how to create a very advanced 3d animation with shaders, additional packages and some magic.
I wish there were more tutorials for people who fall somewhere in between, who know how to set up a scene, but can't yet write an advanced custom shader from scratch. Unfortunately for right now, even with the knowledge that I've gained from the resources above and my experiments I wasn't able to recreate all the ideas I have. I know it takes practice, but I wish I had something to rely on and go back to for some examples and explanations.
Despite my frustration, learning Three.js fundamentals was such a fun and exciting experience! I'm definitely going to continue studying WebGl and advancing my skills. This topic really sparks my interest and consumes my attention for hours. Also it's so rewarding to see all the amazing results and be proud of what I have accomplished. It felt very nice to show the awesome visual effects to my friends and to the developer community as well as receiving lots of sweet kudos.
I hope my gathered resources will be helpful for the 3d web animation enthusiasts and will make learning fun and smooth. Feel free to share this list and have a wonderful time playing with Three.js!
If you know of more courses, articles, blog posts, tweets etc on this topic, please share them with me on Twitter or via the contact form on the home page.
Thanks for taking time to read this post. If you have any thoughts or comments shoot me a message on Twitter. Also feel free to share this post.
You may also like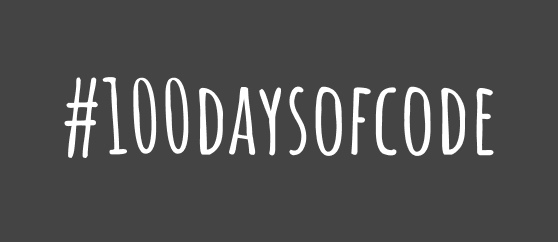 I survived the quarantine with 100DaysOfCode Challenge
How hard is it to code every day if you love programming and learning new technology? Turns out it is pretty hard. There is always something important or urgent to do, you are tired after work, you want to relax or you are just choosing to do something else. It's hard to progress fast as a software developer if you don't put in the time and actually code. I've been taking some time off from work and coding in general, so I needed to create this new habit to code everyday and get excited about my projects all over again.
read more